Hello,
i set up the Integration "Level & Ranks" with the "Level System. Its working and my Viewers are leveling up but my Viewers dont get an Answer when they type !level or !rank in Chat. Only me.
How can i change that? I want that everyone can take a look which level they are.
Here is a Picture and you see what i mean: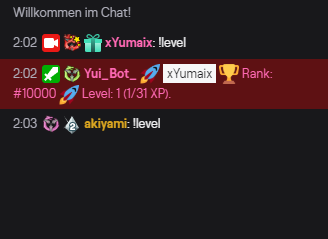 2nd Question: How can i edit the Answer my Viewers got from !level / !rank ?
Would be nice if someone can help me.
Best Greetings,
Yumai