We wish you a very happy new year 2019!
A year ends and a new beginning!
Every year we work very hard to evolve, improve and optimize the service.
It's been "almost" 7 years since WizeBot was born and many years are yet to come!

For this new year, many "features & surprises" are already in preparation and many others will come to the threads of the months following the evolution of the requests, of your universe (the streaming) as well as the platform Twitch.
To start the year well, here is a small overview of the projects / features currently under discussion & development (for some):
---
Migration & Close the old panel:
The migration of our old panel will be intensified in the long term to definitively close it.
Remaining migrations:
Quoting system
Warning system (New generation).
Configuration of the notification area.
Management of the texts of the service.
[*] Commands management (New Generation).
Subscriber lottery.
[*] Donation System (New Generation).
API's (New Generation).
[*] Overlay's (New Generation).
[*] : See below.
Twitch Extensions :
2019 is going to be the year of the Twitch extensions, increasing even more the degree of interactivity with your viewers! Here are some of our extensions in projects:
Panel's (Description) :
Viewer card (Virtual currency, Level / Rank, NB days of follow, Uptime, etc.).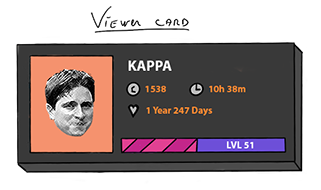 (This illustration is not contractual

)
SongRequest (Playlist, real-time title, promote, moderator management, etc.).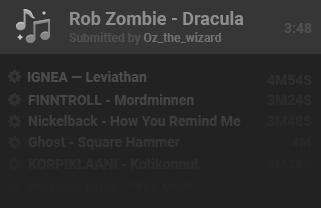 (This is an illustration, the visual is not final)
Overlay's (Player) :
All in one (???).
???
Existing extensions:
Our LeaderBoard as well as our "Streaming Notice" extension will also receive various improvements in the coming months.
Giveaway System (New Generation):
A partial overhaul of our draw system is scheduled and will be accompanied by a management panel (External) for your giveaways.
Donation system (New generation):
A complete redesign of our donation system will take place for the migration of the system to our new panel.
Commands System (New Generation):
A partial redesign of our commands system will also take place for the migration of the system to our new panel.
On program: New interface, new permission system (More advanced), new order types, etc.
New generation of overlay's:
A new generation of overlay's is planned (a little later in the year) to replace the old and eventually to offer a "complete set" of overlay's with much more personalization.
SongRequest system :
We have some ideas for improvements to our system and some SongRequest integrations (Additional Platforms) in reflection to enhance the musical interactivity of your lives.
Dashboard's :
A "Streamers" dashboard is well planned for our new panel (But not only!).

A "Moderators" dashboard is also planned!
External tools :
External tools will be developed for streamers, moderators… but also for viewers!
=> We will give more details a little later

Discord integration :
During the year 2018, we carried out Integration TESTs for Discord on our service, the objective for this year 2019 is an initial integration of the creation of messages on your Discord servers (Launch of LIVE, Creation of CLIP , etc.) and in a second step the command execution.
Roadmap, Support, Documentation & Translation:
During this new year, we will also work on our sources of information and help:
The support center will be rearranged to manage your requests and problems more effectively.

Our documentation will also be rearranged to include more help, tips and visuals to help you better in the configuration and management of our service.

A more accurate roadmap is in reflection, the aim being to provide a more accurate overview of current and future developments.

One of our objectives for 2019 is translation of the service into several other languages, to achieve this goal we will create / develop a collaborative / community translation platform.
---
Thank you all for your trust in all these years!
The adventure is not ready to be finished and it's mainly thanks to you!

Regards,
The WizeBot Team.